Primary tabs
Member Benefits
The Cultural Alliance membership is a diverse group of more than 460 organizations and creative enterprises from across the region representing Performing Arts; Museums; Galleries; Visual Arts & History; Science and Horticulture; Community Arts & Education or Service; Research & other related disciplines. Membership is annual and dues are based on an organization's operating expenses (nonprofits) or annual revenues (for-profits). 
The Cultural Alliance is committed to helping member organizations thrive in today's challenging economic environment. In addition to our role as advocate for the cultural community, the Cultural Alliance also offers member organizations an array of individual services designed to help them effectively manage their organizations and at the same time increase revenues and reduce expenses.
Below we have organized our benefits into five key management areas to help our members understand and maximize their membership with the Cultural Alliance. Please click through on particular programs and services to find out more about how they can benefit your organization.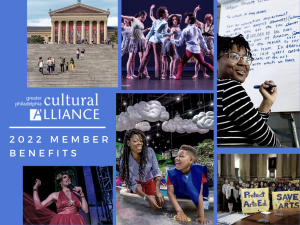 If you would like more information on any of the mentioned benefits, feel free to contact membership@philaculture.org.
Audience engagement and revenue generation tools
Phillyfunguide: The region's leading arts, culture, entertainment calendar for the 5-county region. See a list of our calendar partners. 
Funsavers: The region's premiere Arts & Culture event and content email newsletter. Funsavers has a devoted audience of over 140,000 subscribers eager to engage with arts and culture in the greater Philadelphia region. There are many engagement opportunities for members to capitalize this loyal fanbase.  
Digital Advertising Options: Access to diverse and robust cultural audiences.
Stay informed and educated about important trends impacting the cultural community
Resources for finding and retaining the best employees   
Connecting with peers
Annual Meeting: Connect with over 500 arts and culture professionals from the Greater Philadelphia region and learn from thought leaders in the field at the Annual Meeting. Members receive discounted admission.
Member Directory: The Greater Philadelphia Cultural Alliance's online Member Directory provides a comprehensive community resource filled with information about the region's nonprofit arts and culture organizations.
Administrative savings  
Gallagher Risk Management Services:Their dedicated team of local experts understand the insurance and risk management requirements of the members of the Greater Philadelphia Cultural Alliance and can provide significant guidance and innovative solutions to meet all your insurance needs such as D&O, business insurance, workers' compensation and other property/ liability solutions.
Mediacopy: Cultural Alliance members can receive 15% off the list price for all digitally produced printed material including brochures, small booklets, posters, business cards, stationery, post cards and invitation packages, etc.
Office Basics: 

Office Basics is an industry leader in janitorial supplies, copiers, office furniture and office products offering

price matching and free, next day delivery on their own fleet with no minimum order requirements. The Rebate/Sponsorship will be determined based on your annual spend with Office Basics. Learn more about this benefit directly from their Account Executive!
Payroll Service Solutions: 

The Cultural Alliance has partnered with Payroll Service Solutions to offer a 10% discount on already competitively priced payroll processing for Cultural Alliance members. The firm is locally based and understands the needs of the nonprofit sector. They go far beyond payroll processing in their wide array of services to support you and your organization. You can read more on

our website!