Member Benefits
The Cultural Alliance membership is a diverse group of more than 460 organizations and creative enterprises from across the region representing Performing Arts; Museums; Galleries; Visual Arts & History; Science and Horticulture; Community Arts & Education or Service; Research & other related disciplines. Membership is annual and dues are based on an organization's operating expenses (nonprofits) or annual revenues (for-profits).
The Cultural Alliance is committed to helping member organizations thrive in today's challenging economic environment. In addition to our role as advocate for the cultural community, the Cultural Alliance also offers member organizations an array of individual services designed to help them effectively manage their organizations and at the same time increase revenues and reduce expenses.
Below we have organized our benefits into five key management areas to help our members understand and maximize their membership with the Cultural Alliance. Please click through on particular programs and services to find out more about how they can benefit your organization.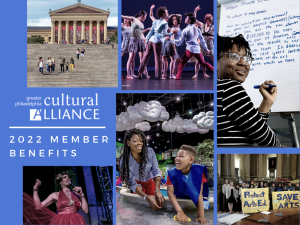 If you would like more information on any of the mentioned benefits, feel free to contact membership@philaculture.org.
Audience engagement and revenue generation tools
Stay informed and educated about important trends impacting the cultural community
Resources for finding and retaining the best employees
Connecting with peers
Administrative savings