Primary tabs
Entry to Program Stream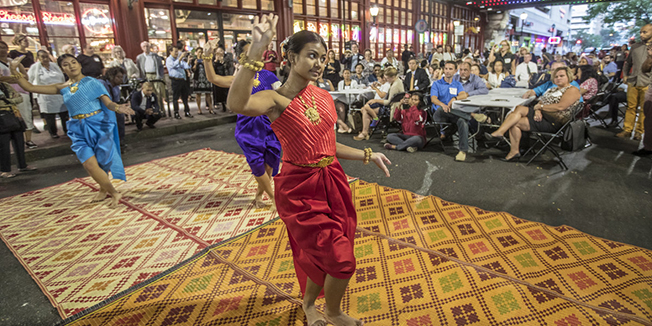 Photo: Cambodian Association of Greater Philadelphia, 2018 PPA grantee.
Entry to Program Stream is a grant program for small nonprofit and fiscally-sponsored organizations that conduct consistent arts programming or services. The Greater Philadelphia Cultural Alliance administers Entry to Program Stream in Bucks, Chester, Delaware, Montgomery and Philadelphia counties on behalf of the Pennsylvania Council on the Arts (PCA), as a regional partner of the Pennsylvania Partners in the Arts (PPA) program.
Funding is provided as general operating support, which helps organizations strengthen their core capacity, engage in critical planning activities, and pay expenses related to staffing, business functions, and programming.
Eligible organizations can apply to Entry to Program Stream annually with the aim of eventually qualifying for Program Stream, which provides ongoing support at a higher average grant amount. Organizations may qualify for Program Stream after consistently receiving funds through Entry to Program Stream, receiving good panel assessments, and fulfilling grant award requirements. 
ELIGIBILITY
Applicants must:
Be a nonprofit, tax-exempt corporation, a unit of government, or school district providing arts programming and/or arts services in Pennsylvania.

Unincorporated groups must apply through a nonprofit, tax exempt corporation that acts as a fiscal sponsor. The fiscal sponsor is legally responsible for the administration of the contract.

Have an average annual revenue of less than $200,000.
Have a history of at least one year of consistent arts programming.
Cannot also be applicants or grantees in AOAP, Program Stream, or Entry Track grants administered by the Pennsylvania Council on the Arts.
APPLICATION DEADLINE
Applications must be completed online via Submittable by February 15, 2022 for the grant performance period of September 1, 2022 to August 31, 2023. Late applications will not be accepted.
FUNDING AMOUNTS
Grant amounts will range from $2,000 to $3,000, and funds may be used for operations, programs, or projects.
MATCHING REQUIREMENTS
All grants must be matched on a dollar-for-dollar basis in cash.
In-kind goods and services may not be used to match PCA funds.
Entry to Program Stream grant funds cannot be used to match other PCA grants.
FUNDING RESTRICTIONS
Grant funds cannot be used for any of the following: ​
Activities outside the performance period of the grant.
Activities that have a religious purpose.
Payments to lobbyists.
Cash prizes and awards.
Benefit activities.
Hospitality expenses (i.e., receptions, parties, gallery openings).
Capital expenditures, including equipment costing $500 or more.
Competitions. 
Performances and exhibitions not available to the public.
HOW TO APPLY
Review the guidelines and eligibility criteria.
Apply online via Submittable at philaculture.submittable.com.
APPLICATION REVIEW PROCESS
PPA uses an advisory panel review process to make recommendations for the PCA's consideration in making final funding decisions.
Organizations or programs stay in Entry to Program Stream until recommended for Program Stream, based on panel review and assessment totals. Once in Program Stream, grants generally range from $3,000 to $5,000. 
RESOURCES
FOR QUESTIONS OR FURTHER INFORMATION
Please contact grants@philaculture.org.
---
Entry to Program Stream is an initiative of the Pennsylvania Council on the Arts (PCA), a state agency under the Office of the Governor. The mission of the PCA is to strengthen the cultural, educational, and economic vitality of Pennsylvania's communities through the arts.