Primary tabs
Upcoming Events at the Cultural Alliance!
Posted By
Wednesday, January 25, 2023
Signature Image: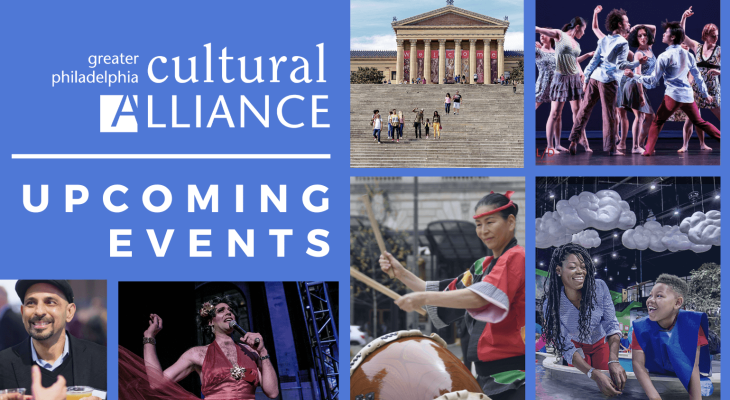 We are excited to present the following events for our 2022-2023 season:

2.27.23

—Rebuilding our Workforce – Creative Industry Trends and Practices for Hiring and Retention.

Join us for a panel discussion with representatives from across the industry, including legal and HR professionals who will provide key insights to the latest developments and solutions for rebuilding the creative industry workforce. Participants will have the opportunity to pose questions to the panelists as well as engage in a problem-solving exercise and leave the program with some tactical takeaways. 

Register today at: https://www.eventbrite.com/e/rebuilding-our-workforce-creative-industry-trendspractices-hiringreten-tickets-505393113407

 
3.30.23

— PHL Arts Mayoral Forum

The Greater Philadelphia Cultural Alliance was selected as one of 52 news media and community organizations, and the only arts and culture organization to partner with the Lenfest Institute of Journalism's "Every Voice, Every Vote" project to aid in the coverage and engagement in and of the Philadelphia 2023 Elections.

On March 30, 2023, the Cultural Alliance will host a mayoral forum with the current candidates at Taller Puertorriqueño. This forum is just one of ways we are ensuring that the voices of arts and culture voters will be heard. 

Check back soon for registration details!

 
4.24.23—-

The 4 Pillars of Nonprofit Financial Sustainability

Join us for The 4 Pillars of Nonprofit Financial Sustainability with revenue strategist Gail Bower. This program is designed to move our creative industry from survival mode into recovery and beyond. 

Led by revenue strategist Gail Bower, arts leaders will discover a new way to look at their organization's financial sustainability and get ready to put their resiliency to work. They will learn what financial sustainability is and isn't; the four pillars of financial sustainability of nonprofit businesses; three steps to reset your organization and business model; and the prevailing leadership style that will help your organizations soar. This workshop is recommended for  small and mid-size nonprofit arts and culture organization's CEOs, executive directors, and board leaders as they prepare for the next fiscal year.

Check back soon for registration details!
Our events change constantly. Please check back frequently for updates.
---
Previous Virtual Events Open to the Public
1.12.23—

Bloomberg Arts Internship Information Sessions

On January 12, 2023, the Cultural Alliance held an information session for the Bloomberg Arts Internship (BIA). BAI provides rising seniors with real-world, real-time work experience in arts and culture organizations that uphold the four main pillars of the program. The pillars of post-secondary readiness, self-advocacy, self-actualization and public speaking,aid the interns in building professional skills that promote their ability to become successful members of the workforce after graduation. Learn more how you can become a worksite with the above video!
1.18.23—WEBINAR:Post-COVID Recovery | Greater Philadelphia Arts & Culture Industry

On January 18, 2023 The Cultural Alliance offered an exclusive presentation of preliminary data from our ongoing COVID impact research. As a follow-up to our Recovery and Regrowth survey in spring 2022, done in partnership with PA Humanities and PA Museums, the Greater Philadelphia Cultural Alliance held a series of focus groups with leaders from arts and culture organizations across the region. This webinar reviewed some of the findings before the release of the final report. Participants had the opportunity to discuss preliminary outcomes, ask additional questions, and participate in interactive polls that will help shape the final report produced by the Cultural Alliance as well as future research. Learn more about these preliminary findings with the video above.  
1.19.23—

Cultural Alliance Membership Information Session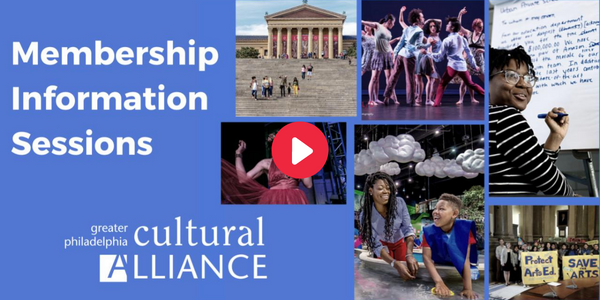 In alignment with our commitment to accessible programming, we held our final Member Benefit Information Session virtually on Thursday, January 19, 2023. This Info Session was an opportunity to connect with Cultural Alliance staff from our Programs Department. The presentation focused primarily on an overview of member benefits, programs and services with time for Q&A. 
 
The goal of this program was to create space to connect with our current members and help them to make the most of our member benefits. We also welcomed some folks who wanted to learn more about the Cultural Alliance community. Please check out the recording from our program or click on the video above if you would like to learn more about your member benefits or how to be involved with the Cultural Alliance!