Primary tabs
Upcoming Events at the Cultural Alliance!
Posted By
Wednesday, January 25, 2023
Signature Image: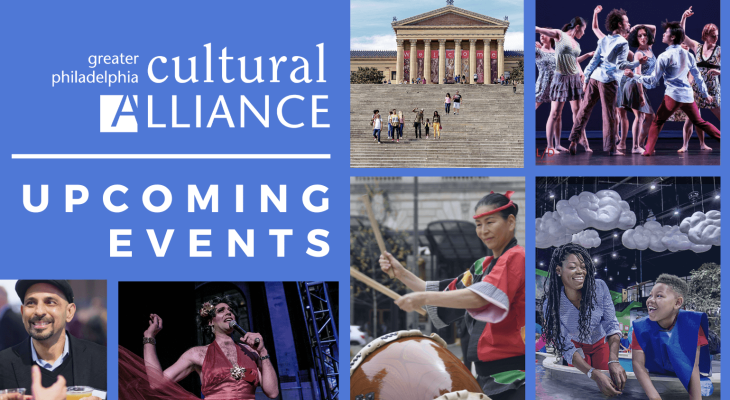 We are excited to present the following events for our 2022-2023 season: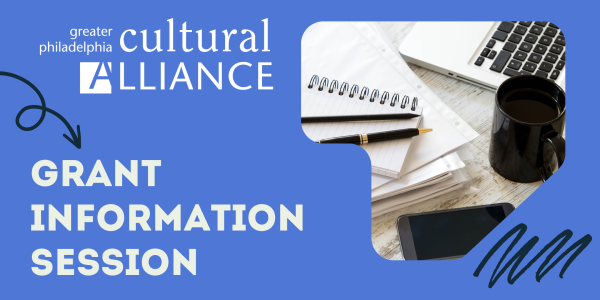 Grant Information Sessions
The Pennsylvania Council on the Arts (PCA) is excited to introduce a new grant program, the Creative Sector Flex Fund (CSFF), for the 2023-2024 grant year. The CSFF is designed to address the changing needs of dynamic PA arts and culture organizations with an average annual revenue between $10,000 - $200,000.
Come to this grants information session to meet the Greater Philadelphia Cultural Alliance team, will learn more about this Creative Sector Flex Fund – including timeline and tips for application – and have an opportunity to ask questions. We plan to host five 5 grant information sessions throughout the Greater Philadelphia region to build awareness of these granting opportunities and to gain a larger perspective on unique needs from county to county.
Our events change constantly. Please check back frequently for updates.
---
Previous Virtual Events Open to the Public
3

.30.23

— PHL Arts Mayoral Forum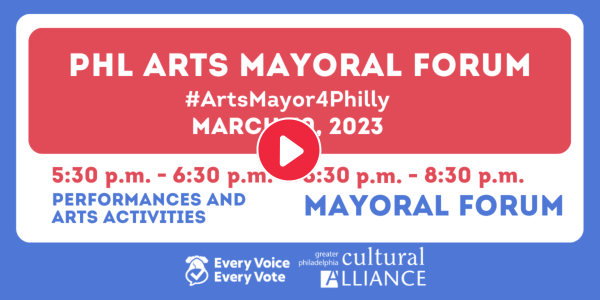 On Thursday, March 30, 2023 we were host to 300 in-person attendees at Taller Puertorriqueño for the PHL Arts Mayoral Forum in which Philadelphia's mayoral candidates discussed the issues facing the city's arts and culture sector.
We are proud to serve our arts and culture community as a participating organization in the Every Voice, Every Vote project through the Lenfest Institute of Journalism. It is through this generous funding that we are able to host the PHL Arts Mayoral Forum and develop the PHL Arts Voter Guide to ensure that the voices of the arts and culture community in Philadelphia are heard and elevated in this election. The Arts Voter Initiative will connect Philadelphia mayoral candidates with the diverse and eclectic arts community, encourage candidates to develop thoughtfully-conceived arts policies, and finally, to activate and inform arts-focused Philadelphians in the election process.
1.12.23—

Bloomberg Arts Internship Information Sessions

On January 12, 2023, the Cultural Alliance held an information session for the Bloomberg Arts Internship (BIA). BAI provides rising seniors with real-world, real-time work experience in arts and culture organizations that uphold the four main pillars of the program. The pillars of post-secondary readiness, self-advocacy, self-actualization and public speaking, aid the interns in building professional skills that promote their ability to become successful members of the workforce after graduation. Learn more how you can become a worksite with the above video!
1.18.23—WEBINAR:Post-COVID Recovery | Greater Philadelphia Arts & Culture Industry

On January 18, 2023 The Cultural Alliance offered an exclusive presentation of preliminary data from our ongoing COVID impact research. As a follow-up to our Recovery and Regrowth survey in spring 2022, done in partnership with PA Humanities and PA Museums, the Greater Philadelphia Cultural Alliance held a series of focus groups with leaders from arts and culture organizations across the region. This webinar reviewed some of the findings before the release of the final report. Participants had the opportunity to discuss preliminary outcomes, ask additional questions, and participate in interactive polls that will help shape the final report produced by the Cultural Alliance as well as future research. Learn more about these preliminary findings with the video above.  
1.19.23—

Cultural Alliance Membership Information Session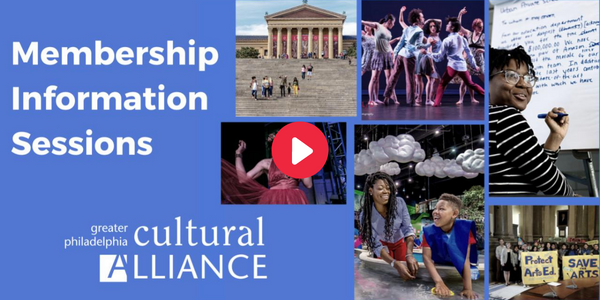 In alignment with our commitment to accessible programming, we held our final Member Benefit Information Session virtually on Thursday, January 19, 2023. This Info Session was an opportunity to connect with Cultural Alliance staff from our Programs Department. The presentation focused primarily on an overview of member benefits, programs and services with time for Q&A. 
 
The goal of this program was to create space to connect with our current members and help them to make the most of our member benefits. We also welcomed some folks who wanted to learn more about the Cultural Alliance community. Please check out the recording from our program or click on the video above if you would like to learn more about your member benefits or how to be involved with the Cultural Alliance!