Primary tabs
All About Our Art-Reach Partnership Around #FedFundsMatter
We ran an editorial series around Art-Reach's ACCESS Admission locations that also receive federal arts funding.
Posted By
Tuesday, October 10, 2017
Categories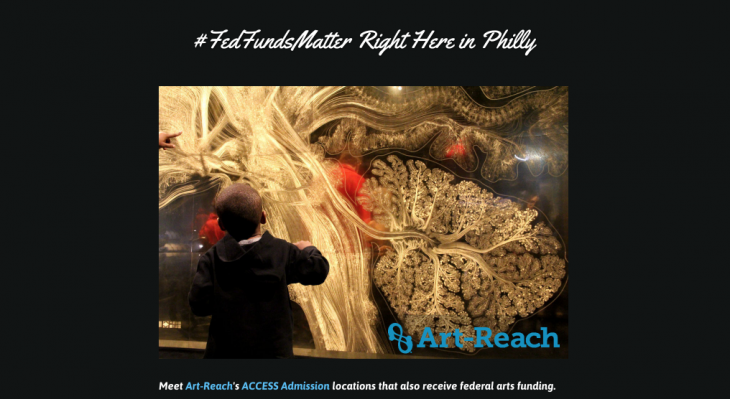 For the past 10 weeks, our team at the Greater Philadelphia Cultural Alliance has been partnering with Art-Reach to provide Philadelphia with a fun and informative resource on the Phillyfunguide: the #FedFundsMatter Right Here in Philly editorial. In pulling together a list of Art-Reach's ACCESS Admission locations that also receive federal arts funding, we have curated an active list of locations for Philadelphians to be more aware of federal arts funding as well as the ACCESS Admission program. The ACCESS Admission program allows more Philadelphians to enjoy the arts at a low and affordable price.
In each of the 10 weeks, we highlighted a specific Art-Reach ACCESS Admission location. Some of them were highlighted with special events that were occurring at their venue and others were a general overview of their venue and mission.
The full list of Art-Reach's ACCESS Admission locations that also receive federal arts funding are below:
The African American Museum in Philadelphia (NEH)
The Barnes Foundation (NEA)
The Brandywine Conservancy & Museum of Art (NEA)
Christ Church (NEH)
Eastern State Penitentiary Historic Site (NEH)
The Franklin Institute (NEH)
FringeArts (NEA)
The Michener Art Museum (NEA)
National Constitution Center (NEH)
National Museum of American Jewish History (NEH)
Pennsylvania Academy of the Fine Arts (NEA, NEH)
Philadelphia Museum of Art (NEA, NEH)
Philadelphia's Magic Gardens (NEA)
---
Art-Reach's ACCESS Admission Program allows individuals with a PA ACCESS Card to attend 36 local museums, gardens, and other cultural sites for just $2.
Did you know that a lot of your favorite Philly events are made possible by federal arts funding? There are more than ten ACCESS Admission locations in Philadelphia that are also National Endowment for the Arts (NEA) and /or National Endowment for the Humanities (NEH) grantees. That means that these locations offer $2 admission to ACCESS Card holders AND that they receive federal funding that supports education, the arts, and humanities.
The NEA is an independent federal agency who gives funding and support to Americans through opportunities to participate in, cultivate, and develop art in all its forms. Without the NEA, many programs and activities that are essential to the fabric of the vibrant cultures alive in America will no longer be available. Along with NEA, the NEH is highly influential in the success and sustained progress of many of the Philadelphian institutions, programming, and education.
Learn more about the importance of federal arts funding at philaculture.org/savethearts.