Primary tabs
TechniCulture Resource Page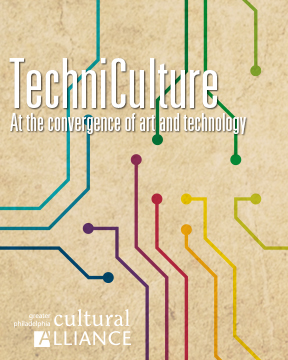 On Friday, April 17, the Greater Philadelphia Cultural Alliance presented the inaugural TechniCulture at the Chemical Heritage Foundation as part of Philly Tech Week and announced the TechniCulture Innovation Award and prize valued at over $10,000.  
The Innovation Award will invite tech companies and cultural institutions to partner for upcoming projects that address a challenge through an integrated technology solution. The winning project will be announced in the fall, and the final project will be unveiled at the 2016 TechniCulture event.
The goals of TechniCulture were to deepen relationships between the cultural and tech communities; to encourage and inspire cultural organizations to think more innovatively and entrepreneurially; and to celebrate our region's bourgeoning tech resources.  The event was kicked off by Youngmoo Kim (Director, Drexel University ExCite Center; Philadelphia Geek Awards 2012 "Scientist of the Year"; member of Apple Distinguished Educator class of 2013). Youngmoo discussed how artistic and technological innovations are inextricably linked and how STEAM education can fuel joint innovation.
Nine TED-like presentations were moderated by Natalie Nixon (Director, Strategic Design MBA, Philadelphia University), and featured partnerships in two categories: Artistic/Curatorial projects and Business Planning. Please see attached document for a complete list of presentations and speakers.  
The presentations were followed by Q & A and networking.  
TechniCulture Resources:
For more information about TechniCulture, to suggest an additional resource to add to this page, or to learn more about other Cultural Alliance programs, please contact Tracy Buchanan at  tracyb@philaculture.org or 215-399-3525.