Primary tabs
Cultural Alliance Names New Policy Director
Date Posted
November 10, 2015 - 5:53am
Categories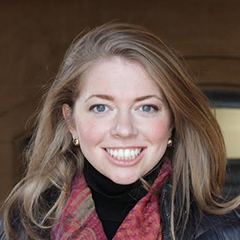 Philadelphia, PA — The Greater Philadelphia Cultural Alliance is pleased to announce that it has named Anne Marie Rhoades as its new Director of Policy & Community Engagement.
Rhoades comes to the Alliance after years of policy experience in fundraising and communications for political campaigns and elected offices in Philadelphia, New Jersey and Missouri. Most recently, she served as Campaign Manager for the successful City Council At-Large primary campaign for Allan Domb and was Operations Director for the New Leaders Council, a training program for young, progressive professionals.
"We are very excited to welcome Anne Marie to the Cultural Alliance team," said Cultural Alliance President Maud Lyon. "We look forward to having her expertise on the full range of the Alliance's policy and community engagement activities, including government relations, our GroundSwell grassroots advocacy program, and the STAMP teen program."
"I'm thrilled to be joining the Cultural Alliance," said Rhoades. "This is a pivotal year for Philadelphia's cultural community, with a new Mayor and an increasing recognition of the role the arts play in critical issues for the region including public education, tourism and community health. I look forward to working with civic and cultural leaders  to ensure that arts and culture remains at the forefront of the city's renaissance."
Rhoades replaces Nicole Allen White, who left the Alliance in August to serve as Director of Government and External Affairs at the Philadelphia Museum of Art.
ABOUT THE GREATER PHILADELPHIA CULTURAL ALLIANCE
Established in 1972, the Greater Philadelphia Cultural Alliance is the region's leading arts and cultural advocacy, research and marketing organization. Our mission is to "lead, strengthen and give voice to a diverse cultural sector that is making Philadelphia a world-class region to live, work, and play."  Our membership includes over 400 organizations ranging from museums and dance companies to community art centers, historic sites, music ensembles and zoos. Our members, as well as the cultural community as a whole, count on the Alliance for signature research reports on the health and growth of the sector; grantmaking in partnership with the Pennsylvania Council on the arts; robust professional development and membership services; marketing and audience development through our signature consumer marketing programs, Phillyfunguide.com and Funsavers; and leadership in policy and community engagement through our GroundSwell advocacy initiative and STAMP teen program. For more information on the Cultural Alliance, please visit www.philaculture.org.