Primary tabs
Member Spotlight
Mercer Museum & Fonthill Castle
Posted By
Thursday, November 14, 2019
Located in Doylestown, Bucks County, PA, the Mercer Museum and Fonthill Castle, operated by the Bucks County Historical Society, are two historic castles celebrating the legacy of Henry Chapman Mercer (1856-1930), American archaeologist, anthropologist, ceramist and scholar.
The Mercer Museum's historic core showcases over 50,000 pre-Industrial tools and is one of the world's most comprehensive portraits of pre-Industrial American material culture nestled in a six-story reinforced concrete castle. The research library is a center for local and regional history, and the museum's modern wing offers local and national exhibits and year-round community programs.
Fonthill Castle was Mercer's home and showplace for his renowned handcrafted ceramic tiles, designed at the height of the American Arts and Crafts movement. It has an eclectic mix of Medieval, Gothic, and Byzantine architectural style and is significant as an early example of poured reinforced concrete architecture.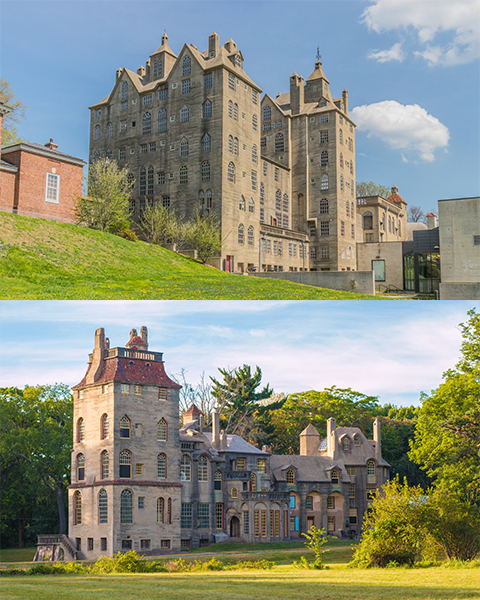 Tell us a little about your organization.
Inspired by the Latin motto Plus Ultra, meaning "more beyond", Henry Mercer spent his life as an archaeologist, historian, storyteller, collector and artist, and an advocate for the humanities. When Mercer helped create the Bucks County Historical Society, and ultimately built the Mercer Museum and Fonthill Castle, the mission was to preserve the history and stories of America's pre-Industrial past and American ingenuity. Mercer saw beauty in everyday items and encouraged people to see beyond the mundane, creating opportunities to view ordinary objects in extraordinary ways.
The Bucks County Historical Society's mission still remains the same – to help our many audiences in appreciating the past and to help people find stories and meaning relevant to their lives.
Today, we are proud to welcome guests from around the world to our two castles in Bucks County. In addition to our permanent artifact collections and daily guided tours, the Mercer Museum & Fonthill Castle showcase original and traveling exhibits, host year-round school and educational groups, and create welcoming community programs and events that engage our modern day audiences with history in exciting ways.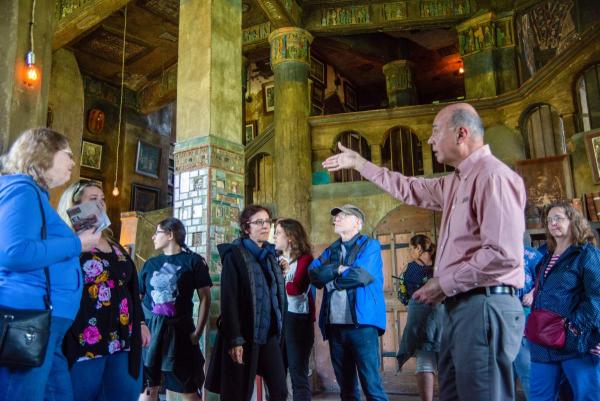 How have you grown as an organization?
Our daily tours and permanent exhibits are at the heart of Henry Mercer's historic castles, and they remain a guest favorite, as they are unlike any historic structures in the world! We are thrilled with our increased visitation, and youth activities such as school field trips, scout workshops, summer camps, National History Day, and family craft activities remain an essential part of the museum's overall program schedule, as do adult events, such as our Cocktails at the Castle fundraiser in October, a robust slate of guest lecturers and artists, as well as new and exciting programs like Escape Rooms at Fonthill Castle.
We also value the telling of lesser known stories that need to be told. In conjunction with an exhibit on racing in Bucks County, we were honored to host an historic panel discussion on the history of trailblazing African-American motor racers, the "Black American Racers," led by Leonard Miller, and the group's efforts to break the color barrier in motor sports in the 1960s. We were able to record the panel and made it available on our YouTube channel to share their astounding story with as many of our guests as possible, whether in person or on the web.
We also use our social media channels to share history with our guests and feature historic images, artifacts and stories from our collection with digital audiences worldwide, and have loved participating in museum and travel partner social "takeovers".
Finally, we are embarking on pioneering new initiatives in the near future, including a brand new Pew Center for Arts & Heritage grant that will allow us to prototype and reinvent two empty rooms located in the original historic core of the Mercer Museum into community-centric, intimate spaces designed for meaningful and active learning through the power of objects.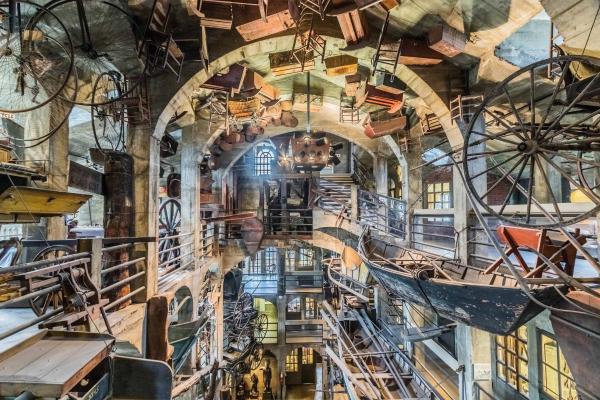 What made you want to join the Cultural Alliance and/or What do you value most about your Cultural Alliance Membership?
We really enjoy being a part of the Greater Philadelphia Cultural Alliance and being able to join forces with other creative organizations in the region. The greater Philadelphia region has such a rich arts and culture sector, and we enjoy being a part of that community and representing Bucks County. GPCA events offer our staff professional development opportunities and a wonderful network of peers with whom to brainstorm and collaborate.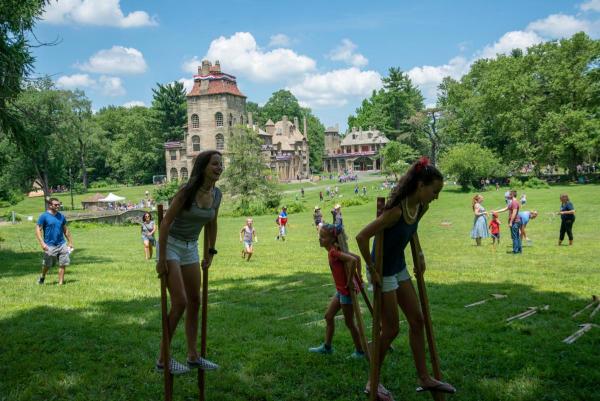 What are you most excited about for this season/that is coming up?
There are always exciting things happening at our castles and this season is no exception! We recently opened two new exhibits at the Mercer Museum, Forging a Link: Metalsmiths Respond to the Mercer Collection and Pigskin Peanuts.
Forging a Link: Metalsmiths Respond to the Mercer Collection is an original, cutting-edge exhibit open now through Sunday, January 5, 2020 that highlights the work of twenty-three blacksmiths, metalsmiths and jewelers, who represent a diverse cross section of their fields. Curated by Cappy Counard, the show represents contemporary artist responses to the museum's historic collection. These new works of art are integrated into the museum's historic collection and displayed alongside the artifacts that inspired them.
Pigskin Peanuts is a seasonal football-themed traveling exhibit, toured by the Charles M. Schulz Museum and Research Center, Santa Rose, California, and showcases fifty daily and Sunday Peanuts comic strips featuring football and the popular characters Charlie Brown, Woodstock, and Snoopy. To complement Pigskin Peanuts, the Mercer Museum is excited to mount a companion exhibit called Bucks County Plays Football, which highlights some of Bucks County's own football history and traditions, including historic photographs, video footage, tickets and vintage memorabilia.
And, it wouldn't be the holidays without our special holiday programs at the castles! From the Mercer Museum Holiday Open House featuring local musical performances, the burning of the greens, and a visit with Santa in the historic log house, to new traditions like Fonthill Castle's sold-out Holiday Lights Meander events, we are gearing up for the most exciting holiday season yet at the Mercer Museum and Fonthill Castle.