Primary tabs
Posted By
Thursday, August 18, 2022
Signature Image: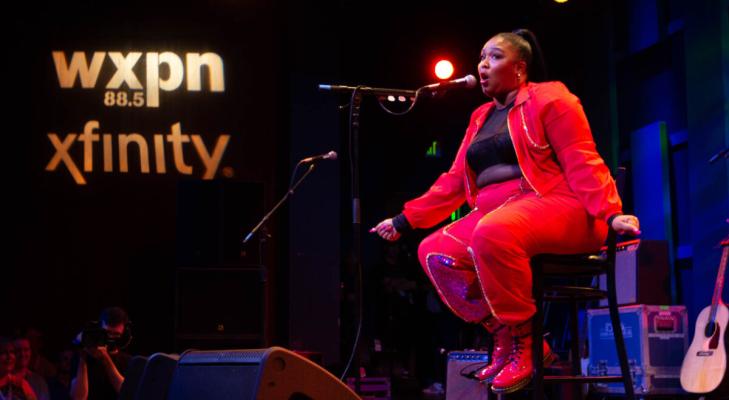 Lizzo made an appearance during a Free At Noon concert in 2019. (Photo by Makena Duffy for WXPN)
WXPN is a nationally recognized leader in Triple A programming and the premier place for music discovery. As a member-supported radio station of the University of Pennsylvania, we offer handcrafted and curated broadcast and digital programming, editorial coverage of local and national music, and a variety of events including Free At Noon, a free live concert performance every Friday at World Cafe Live in the University City District of Philadelphia.
Our mission is to connect artists with audiences at every level, and we do this through:
Presenting a high-quality service that is valuable to our listeners
Establishing ourselves as one of the region's significant cultural institutions
Supporting the local music scene
Playing a national leadership role in public radio and digital media
Expanding our reach to an increasingly diverse community
Providing significant opportunities for students interested in exploring careers in media
The Philadelphia Cultural Alliance has been a great resource for WXPN to connect with listeners and members in the Philadelphia area who value and share similar community values.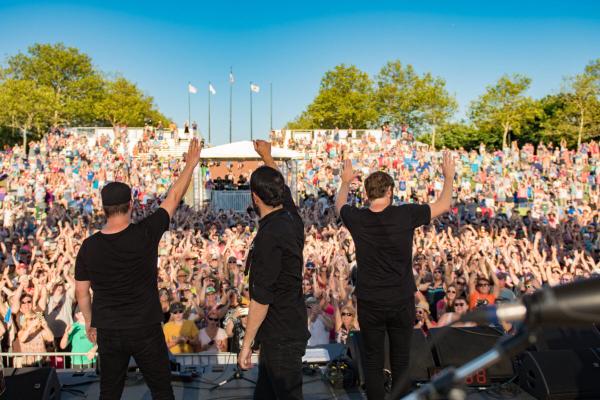 Through its mission of connecting artists and audiences, WXPN has become known as a prime source for music discovery. (Photo by Joe del Tufo for WXPN)
Artists to Watch
For nearly 20 years, WXPN has spotlighted one artist per month whose careers were launched and are now a part of our listeners' playlist collection through our "Artist to Watch" feature.  
Being singled out like this has an immense impact on the artists whose careers are dependent on airplay on independent public radio. For example, Brandi Carlile, a GRAMMY winning artist and NY Times Bestselling author, was our Artist to Watch in November 2005.  We featured Alabama Shakes November 2011, Hozier in April 2013, Leon Bridges in August 2015, and Phoebe Bridgers in September 2017.
Home of World Cafe
Since 1991, WXPN has produced World Cafe, NPR's most popular music program. Hosted by Raina Douris, the daily, two-hour radio show and online content connects today's essential and emerging artists with listeners through its hallmark in-depth artist interviews and in-studio performances. Longtime features such as Latin Roots and Sense of Place help introduce under-the-radar artists to a national audience and take listeners to great music cities around the globe. Raina and Contributing Host Stephen Kallao also co-host the weekly World Cafe Words and Music Podcast from WXPN.
World Cafe can be heard on more than 250 public radio stations across the country. The show has produced more than 45 CDs featuring exclusive recordings from hundreds of artists and inspired the concept for the independently owned-and operated World Cafe Live venue.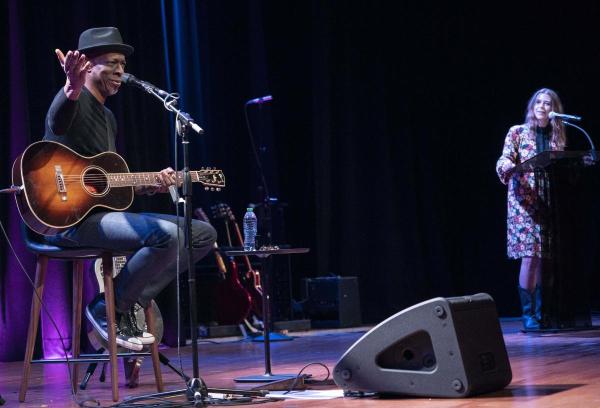 Legendary blues artist Keb' Mo' joined host Raina Douris in March to celebrate 30 years of World Cafe programming. (Photo by Val Hoeppner for WXPN)
Focus On Local Music
Music fans rely on WXPN for the latest on upcoming concerts, CD releases, and news about musicians and venues in the region. Our editorial team serves up daily coverage of shows from local and national performers and regularly spotlights the people and places making an impact on the local music scene.  We frequently invite local artists to our studio to be featured in an exclusive video series called the "The Key Studio Sessions." Our recently redesigned website features an extensive concert calendar listing and robust Music News coverage.
Community of Music Lovers
WXPN is fueled by the support of a passionate community of 30,000 members who together contribute more than half the station's revenue.  As a music programming service created BY music fans FOR music fans, members of the WXPN community describe us best. "I've been listening to XPN since 2005. You introduced me to some of my favorite bands including Bright Eyes, Wilco, and showed me more about artists that I already knew, like Warren Zevon and Talking Heads. Music is at the core of my daily routine, inner solace and all-around joy," said a listener from Philadelphia.  Another from California said, "You do such a great job bringing all kinds of music to us and wonderful details about new musicians. Thank you!"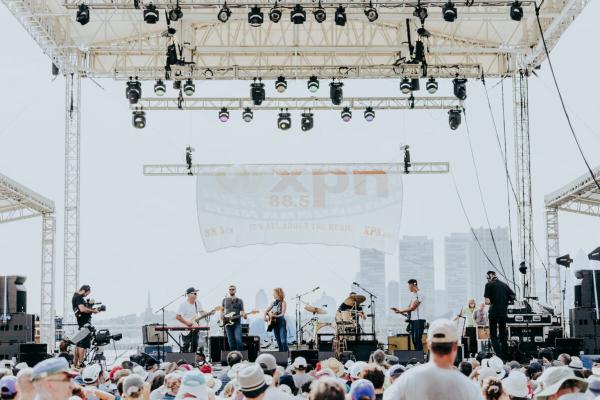 See Kathleen Edwards and 29 other performers at the XPoNential Music Festival in September. (Photo by Ashley Gellman for WXPN)
Annual Gathering on the River
Coming up, we're excited to present our annual XPoNential Music Festival on September 16, 17, and 18 on the Camden waterfront. Our lineup includes a range of established artists like Patti Smith, The War on Drugs, Nathaniel Rateliff & The Night Sweats, Taj Mahal, Lucinda Williams, Jenny Lewis, and more; plus an array of local musicians such as Snacktime, Catbite, and Cosmic Guilt. You can learn more about our festival and see the full lineup at xpnfest.org.