Primary tabs
Meet a Cultural Cabinet Funder: The Presser Foundation
Posted By
Abby Rolland, Grants & Communications Manager, The Presser Foundation
Wednesday, April 20, 2022
Signature Image: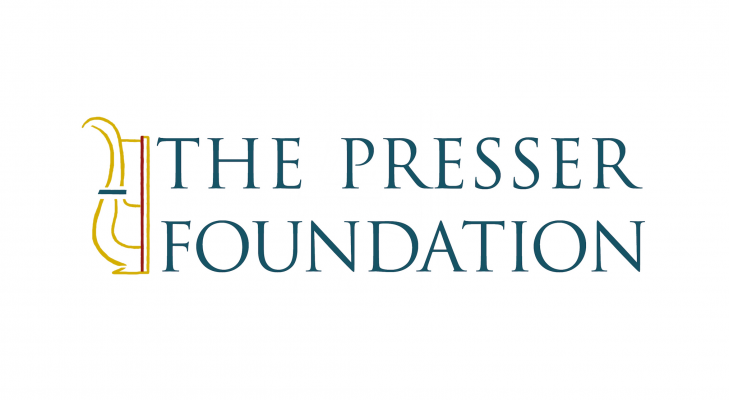 The Cultural Cabinet was created to help protect and advance the momentum of our innovative research, advocacy and audience-engagement programs. Our Cultural Cabinet funders provide support to the arts and culture community, beyond individual grantmaking capacity. Learn more about being a Cultural Cabinet Funder Organization on our website.
The Funder: The Presser Foundation, a private, charitable foundation focused on music
What they fund: Mostly in the Greater Philadelphia region (within a 75-mile radius); grants to higher education institutions across the country for undergraduate and graduate music awards
The Presser Foundation is the only foundation solely dedicated to funding music organizations in the Greater Philadelphia region. Its holistic approach to supporting music through a variety of grantmaking strategies also makes it unique amongst funders, as it gives to music organizations through special projects, general operating support, and capital support grants, while also supporting music students through both undergraduate and graduate awards. The Presser Foundation also provides special assistance to retired music teachers with financial need.
Some background on The Presser Foundation: it was established by Theodore Presser, a musician and educator turned music publisher who created The Etude, a music magazine, as well as a publishing company. While The Presser Foundation was formally established in 1939, Mr. Presser took steps to formalize and perpetuate his giving in 1916. In addition to his work with establishing the Foundation, Mr. Presser also established the Presser Home for Retired Music Teachers in 1906, which provided a home for music teachers with financial need. This desire of Mr. Presser's to give back to retired music educators is woven into The Presser Foundation's grantmaking today through its Assistance to Music Teachers program.
Throughout the past 80 plus years, The Presser Foundation has stayed focused on its mission and commitment to music organizations while also adapting to better serve its partners and the community. Newer efforts include expanding grantmaking to include all different types of music traditions and genres, growing and enhancing transparency through clearer and more regular communications, and convening partners to discuss relevant and timely topics. These endeavors are some of the ways that The Presser Foundation is adapting to become a better partner in the community. 
The Presser Foundation is also committed to centering equity and inclusion within its work. The Foundation understands how vitally important it is to renounce social and cultural injustices, to fight for social justice, and to work vigorously for a more humane and inclusive future. Music provides one of the strongest and most fertile platforms for accomplishing this mission, and music organizations are essential partners in these efforts.
Not only do grantees play a crucial role in centering equity, but The Presser Foundation sees them as true partners in all its efforts. We at the Foundation have a responsibility to be open and transparent.
With that being said, we want to hear from you – what do you want to see from supporters of cultural institutions? How can we partner with others to better strengthen arts and culture institutions in Philadelphia? 
Reach out to Abby Rolland, Presser's Grants & Communications Manager, at arolland@presserfoundation.org to share your thoughts and ideas!