Primary tabs
Attend PANO's Inclusion by Design 2.0: Our Collective Mosaic Conference
Posted By
Friday, September 14, 2018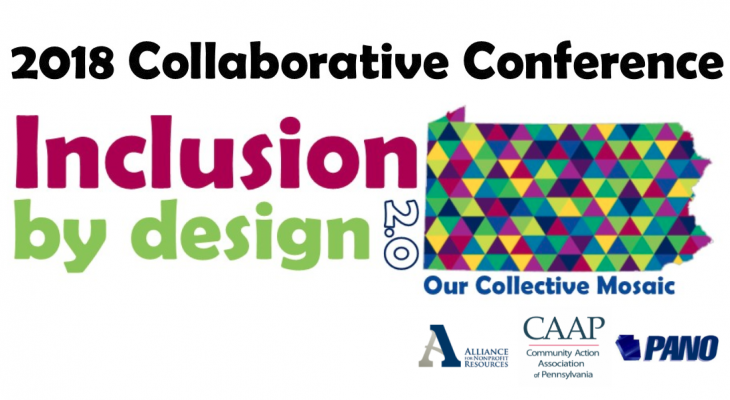 The Alliance for Nonprofit Resources, the Community Action Association of Pennsylvania and the Pennsylvania Association of Nonprofit Organizations (PANO) are partnering once again for their 2018 Collaborative Conference Inclusion by Design 2.0: Our Collective Mosaic - on October 4 and 5 in State College, PA.
This year, the conference will host Vu Le as its keynote speaker on Thursday, October 4. Vu Le, author of blog Nonprofit AF and Executive Director of Rainier Valley Corps, will focus his talk on Inclusion, Social Justice, and Unleashing the Full Potential of the Nonprofit Sector.
On Friday, October 5, the conference welcomes Pennsylvania's top political commentators to provide a breakdown of the 2018 midterm elections. Given the social and political tension sweeping our nation since the 2016 election cycle and considering the redrawing of Pennsylvania's U.S. House of Representatives map for 2018, they have assembled a panel of experts to help us untangle the intricacies of this year's general election matchups and the impact these midterm results will have on state and national policy making.
Workshop tracks also include:
Communications: tips, tools and practice to create improve communication plans, storytelling, social media strategy, and more
Community Action: the latest and greatest developments and updates specifically geared toward community action agencies across PA
Leadership Development: tips, tools and practice for staff at all levels of leadership, from interns and front-line staff, to executive directors and board chairs, to optimize performance
Legal Compliance and Ethics: practical updates on new or changing industry standards, best practices, and policies relating to inclusion, especially around board governance and HR
Panel Discussion: stories of the challenges, missteps, successes, and practical advice from real organizations who are boldly innovating and experimenting with inclusion
Power of People: tips, tools and practice for relationship building, cultural appreciation, working together, and more
Resource Development: fundraising and other forms of resource development rooted in intentional inclusion
Cultural Alliance members receive a special discount rate: register at the conference's member rate and be sure to mention the Greater Philadelphia Cultural Alliance in the "How did you find out about this" field. The discounted rate for the full conference is $345 (late registration after 9/24 is $415).
Learn more and register for the conference at https://collaborativeconference.org/2018-conference/