Primary tabs
Creating a Diverse & Inclusive Workplace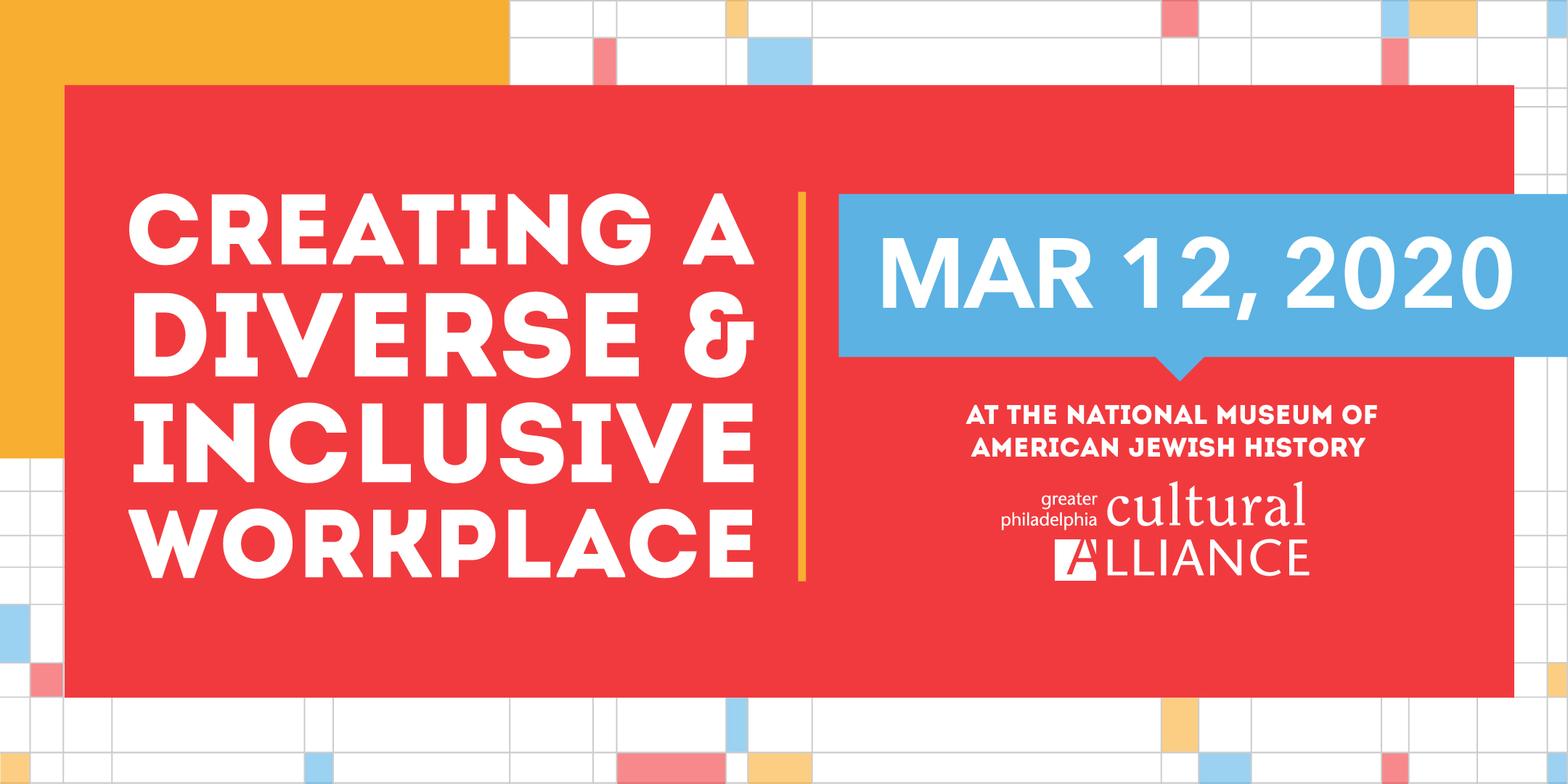 Thursday, March 12, 2020 | 8:30 a.m. - 11:30 a.m.
National Museum of American Jewish History
100 S Independence Mall E, Philadelphia, PA 19106
How can you go beyond the vision for a diverse, equitable & inclusive workforce? 
On Thursday, March 12, more than 200 arts and culture professionals and other stakeholders of the sector attended the program led by Dr. Tanya O'Neill, Shawn Mott and Jameel Rush about how to make the case for a diverse workforce, engage in equitable hiring practices, and create inclusive workplaces. 
This event was one component of our Diversity, Equity and Inclusion, or DEI, initiative that is a long-term project which is being implemented on many fronts, both for the Alliance and for many of our member organizations. While planning for this event, the DEI Affinity Group wanted to ensure that participants left with tools and actionable items to help recruit and hire more diverse staff. We also felt it was equally, if not more, vital to discuss how to create inclusive work environments in which diverse candidates will feel welcome and want to stay. Without inclusion, diversity might only be an empty statistic.  
It is important to note that this is just the beginning of the conversation.  Over the course of the upcoming year, the Cultural Alliance will continue its dedication to this work and empowering you, our members, to engage in it as well. If you attended the training workshop, we would also like to invite you to a follow-up phone call regarding the implementation of information from the training to be held on Thursday, June 18 from 10:00 a.m. - 11:00 a.m. and facilitated by Shawn Mott. Watch your inbox for an invitation later this spring!
Resources
About Our Diversity, Equity & Inclusion Initiatives
The Cultural Alliance is committed to increasing diversity and equity throughout the arts and culture sector. In 2016 the Cultural Alliance included in our strategic plan a goal to increase diversity, equity and inclusion (DEI) within the Alliance and the broader cultural community. Our first step was to conduct an extensive scan of our current practices and perceptions, which included input from a wide range of stakeholders. From there, we developed a statement and action plan, which is guiding our DEI work moving forward. 
We also created an affinity group of Alliance board members, arts administrators, artists, funders and others to inform and guide our efforts. More than 50 members of our DEI Affinity Group volunteer their time to shape, inform and guide this work and ensure it reflects the needs of our members. If you aren't already a member of our DEI Affinity Group and would like to join, please email dei@philaculture.org to get involved!
Learn more about the Cultural Alliance's DEI work on our website.
PRESENTERS

Jameel Rush, PHR, SHRM-CP
Jameel is the AVP of Diversity, Inclusion, and Early Talent Development at Aramark. In this role Jameel serves as the Chief Diversity Officer, leading all inclusion and diversity initiatives for Aramark's 270,000+ associates and leads their campus hire programs. Jameel has over 12 years of global talent management and human resources experience having previously held roles in leadership development, organizational effectiveness, organizational development, change management, and several HR business partner roles. Jameel has been recognized numerous times for his work in the Philadelphia and HR community including receiving the HR Rising Star Award from Temple University in 2015, being named as one of Philadelphia's Top 55 Connectors and Keepers by Leadership Philadelphia, and being placed on Philadelphia's Top Professionals under 40 list by the Philadelphia Business Journal in 2016. Jameel also serves as an adjunct professor in Human Resources and Diversity and Inclusion at Temple University and Villanova University.

Dr. Tanya O'Neill, Associate Director of Leadership & Professional Development at the University of Pennsylvania School of Medicine​
Dr. Tanya O'Neill uses her expertise in leadership development as a facilitator, consultant and coach to help leaders develop skills that positively impact people, performance and productivity. Dr. O'Neill has a very diverse background which includes  experience as a Nurse, former Air Force Reservist, Community Health Educator, and an Inclusion & Diversity consultant. She has earned a degree in Nursing (BSN), Human Services (MHS) and Psychology (PsyD), and holds certifications in MBTI, Crucial Conversations, 360 VOICES, Gallup Strengths Performance Coaching, Diversity Practitioner, and DDI Leadership Development. Dr. O'Neill combines logic and emotional intelligence within her coaching practice. She is a native Philadelphian who enjoys helping individuals and teams cultivate their own unique inner brilliance. Currently, Tanya is the Associate Director of Leadership Development for the Perelman School of Medicine at University of Pennsylvania.

Shawn Mott, Organizational Development Consultant at Resources for Human Development
Shawn Maurice Mott is a results-driven diversity, equity and inclusion, learning, organizational development, and human resources professional with deep experience leading, managing, and supporting organizational learning, organizational effectiveness, and human capital performance management functions and initiatives within organizations for more than 20+ years. A dedicated leader and individual, with a proven record of successful strategy development, learning and OD program/project development and execution, demonstrating a persistent and unrelenting focus on innovation and continuous improvement. By far, his most notable strength is the ability to provide practical solutions to organizations such as aligning their business objectives to their organizational cultural; assessing their organization strategy and design; and executing organizational change management initiatives, learning solutions, and talent services. He enjoys serving as a proponent of change in support of positive and inclusive workplaces and communities!