Primary tabs
Dominique Goss
Date Posted
November 10, 2021 - 10:34am
Categories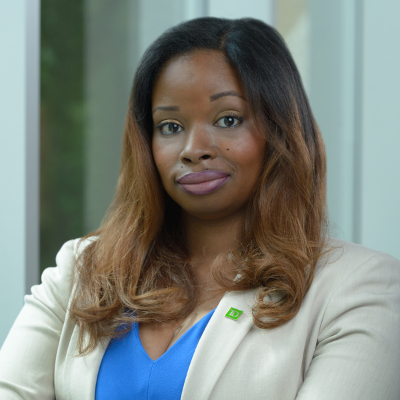 Dominique is a compassionate, astute and progressive philanthropic leader in the Philadelphia metro area. She is responsible for aligning TD's corporate giving to its broader strategic priorities in partnership with Portfolio Managers, and Senior Regional Giving Managers. The TD Charitable Foundation's goal is to drive broader philanthropic impact that aligns with the bank's global corporate citizenship strategy "The Ready Commitment".
Her passion and commitment to equity and underserved communities of human diversity is demonstrated in her portfolio of work. She has pioneered efforts and championed financial giving to organizations that promote sound fiscal responsibility and innovation in the nonprofit sector. She also brings a broad understanding of business principles which serves her well when collaborating with other business leaders to align shared values. Her commitment to improving the quality of life for TD's customers, colleagues and communities is evident through her passion and partnership.
Dominique, a native Philadelphian spent her freshman year at Howard University in Washington, D.C. She later transferred to Temple University where she received her Bachelor's degree and became more acutely aware of urban centers' socioeconomic issues. In college, she noticed poorer communities had fewer resources, like grocery stores, health centers, and quality schools. She now strives towards bridging the gap nationally for communities challenged with deep inequities. 
In 2017, Dominique was featured in Generocity's, "12 people of color leading the social impact charge in Philadelphia." Additionally, she was honored by The Philadelphia Inquirer where she received the 2019 millennial philanthropist of the year, as the next generation of leaders in philanthropy. Most recently, the Social Innovation's Journal honored her as a "2021 Social Impact investor" award; acknowledging her sustained commitment to our most vulnerable communities.
Dominique dedicates her time with organizations impacting economic inequality & the racial wealth gap, financial stability, youth empowerment, and arts & culture. She also currently serves as board member, and chair of the Brandywine Health Foundation's Equity committee. She's a board member of Mural Arts Philadelphia and serves as Vice President for She Can Win; an organization focused on electing more women of color into public office. Lastly, she's a 2019-2020 Connecting Leaders Fellow with the Association for Black Foundation Executives (ABFE).
When Dominique isn't trying to change the world by building political power in black and brown communities; she enjoys spending time with family, traveling with friends, and catching the newest shows on Netflix & Hulu. She's an avid dancer, shopper, and food connoisseur!