Friday 4/15: Gallery Night Is Back Bigger Than Ever
Dozens of Galleries Participating.
Audience Choice Poll Rewards Top Gallery with Free Ad.
April 4, 2011
Karim Olaechea
Greater Philadelphia Cultural Alliance
karimo@philaculture.org; 215-399-3518
Philadelphia, PA – This Friday, April 15th from 5 PM to 9 PM, galleries across Philadelphia will open their doors to the public for a free citywide celebration of arts and culture as part of the Philadelphia International Festival of the Arts. With 37 galleries and counting, this will be the largest Gallery Night event to date.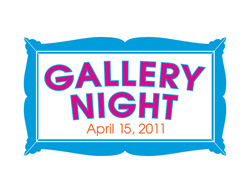 What: Gallery Night
When: Friday, April 15 from 5:00 PM to 9:00 PM
Where: Throughout Center City, Old City, Fairmount, New Kensington, North Philadelphia, and Callowhill.
Participating galleries across the city will keep their doors open late for an evening of free special exhibits and light fare. Attendees will have the opportunity to explore some of Philadelphia's most vibrant neighborhoods and experience the full spectrum of Philadelphia's art and gallery scene in a fun and relaxed atmosphere, and at no charge!
Vote to Win Your Favorite Gallery Free Advertising!

As part of this very special event, Phillyfunguide, with support from PNC Arts Alive, is running an audience choice poll for participating galleries. Through the PNC Arts Alive Audience Poll, gallery supporters can vote for their favorite gallery on Phillyfunguide.com, and the gallery with the most votes will receive up to $1,900 worth of advertising for upcoming exhibitions. Voting ends and the winner will be announced on April 17th at www.phillyfunguide.com/gallerynight.
Exhibits and special events happening that evening include a photography exhibit of photos taken between 1978 and 1983 at a wide variety of parties, from drag balls to society galas, by renowned Philadelphia artist William Earle Williams at The Print Center; "Sonic Textures" an exhibit featuring fine art produced by rock poster artists at PhilaMoca; "J'entends les trains/I keep hearing trains forever", a three-part video exhibition by French artist Tania Mouraud at the Philadelphia Art Alliance; and, in keeping with the Parisian theme of PIFA, "Noir: the Parisian Embrace" at Vivant Art Collection.
For a list of participating galleries, a downloadable map of participating galleries and to vote for your favorite gallery, visit: www.phillyfunguide.com/gallerynight.
Participating Galleries:
1622 Chestnut Gallery at The Art Institute of Philadelphia
A x D Gallery
Absolute Abstract
ArtJaz Gallery
Asian Arts Initiative
The Borowsky Gallery at The Gershman Y
The Center for Emerging Visual Artists
The Clay Studio
Craft Foundry
Fairmount Arts Crawl Preview
Fairmount Community Development Corporation
Frankford & Norris Gallery (F&N Gallery)
Gallery 339
Highwire Gallery
InLiquid
Khmer Art Gallery/Museum
La Salle University Art Museum
Leotah's Place
Moore College of Art
More Than Old
Muse Gallery
Open Lens Gallery at The Gershman Y
Pentimenti Gallery
Philadelphia Art Alliance
The Philadelphia Sketch Club
PhilaMOCA (Philadelphia Mausoleum of Contemporary Art
The Print Center
Sande Webster Gallery
Scarlett Alley
Seraphin Gallery
Snyderman-Works Galleries
Temple University Tyler School of Art - Temple Gallery
Twenty-Two Gallery
University of the Arts - Gallery 1401
University of the Arts - Sol Mednick Gallery
Vivant Art Collection
Vox Populi
Wood Turning Center
About Gallery Night and Our Partners
Gallery Night is produced by Center City District and Phillyfunguide as part of Philadelphia International Festival of the Arts, which takes place from April 7 through May 1, 2011. The evening is made possible with the help and support of our partners, including the Callowhill Neighborhood Association, Fairmount Arts Crawl, InLiquid, New Kensington Community Development Corporation, Old City Arts Association, North Philadelphia Arts and Culture Alliance, and University City District.

About the Philadelphia International Festival of the Arts
The Philadelphia International Festival of the Arts (PIFA), inspired by the Kimmel Center, creates a place on the world stage for the city's arts and cultural scene with a three-week festival featuring free and ticketed performances and activities. Inspired by the Kimmel Center, PIFA celebrates the collaboration, innovation and creativity present in every art form. The first-ever festival—centered on the theme "Paris: 1910-1920"—showcases newly commissioned works, unexpected partnerships with both local and international artists and non-traditional and emerging art forms, along with classic performances that will engage residents and visitors alike. The festival was made possible by an extraordinary grant from Philadelphia philanthropist Leonore Annenberg, whose vision for a city-wide celebration of the arts shaped its philosophy and programming. PIFA takes place April 7-May 1, 2011. For the most up to date information, contact PIFA at (215) 790-5800 or visit pifa.org.
About PNC Arts Alive
PNC Arts Alive is a five-year, $5 million initiative from the PNC Foundation, which receives its principal funding from The PNC Financial Services Group, Inc. (NYSE: PNC). The goal of PNC Arts Alive is to help area residents gain access to the arts, and to help arts organizations expand and engage audiences.
# # #