Join the Cultural Alliance
Cultural Alliance membership is open to any institution or for-profit creative enterprise that supports art, culture and the creative economy in the Greater Philadelphia region including the following disciplines: Performing Arts; Museums; Galleries;Visual Arts & History; Science and Horticulture; Community Arts & Education or Service; Research & other related disciplines. To learn about the benefits of Cultural Alliance membership, please visit our Member Benefits page.
Become a Member of the Cultural Alliance
Becoming a member of the Cultural Alliance is simple. Our online membership form will automatically calculate your dues based upon your operating expenses (nonprofits) or annual revenue (for-profits) and give you the option to pay online with a credit card or print an invoice and pay by check.
To get started, please complete this simple form. Once received, we will send you an email with your philaculture account login information and instructions for accessing the online membership form. If you have questions regarding membership with the Cultural Alliance, contact membership@philaculture.org or call (215) 557-7811 and select option 5.
Once invited to complete the membership form, you will need to log into your account to complete the enrollment process. Check out our Membership Form Tutorial Video for tips and tricks to our online form.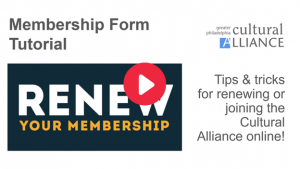 We want you to continue to benefit from our work together and the resources we offer to members. We ask all organizations who are able to pay the standard dues rate do so. However, we also recognize how constrained finances are for so many members. To help, we are offering a 10% discount for organizations that are unable to renew or join at the standard membership rate. That discounted rate will be calculated on the membership form once your budget information is entered.
Membership dues are calculated based on your organization's annual operating expenses (nonprofits) or annual revenues (for-profits).
| | |
| --- | --- |
| Expense/Revenue Category | Membership Dues |
| < $119,999 | $159 |
| $120,000-$1,069,999 | Budget x .00135 |
| $1,070,000-$2,999,999 | $1,445 |
| $3,000,000-$4,999,999 | $1,555 |
| $5,000,000-$7,499,999 | $1,945 |
| $7,500,000-$9,999,999 | $2,320 |
| $10,000,000-$12,499,999 | $2,715 |
| $12,500,000-$14,999,999 | $3,100 |
| $15,000,000-$19,999,999 | $3,855 |
| $20,000,000-$24,999,999 | $4,895 |
| $25,000,000+ | $6,095 |