Primary tabs
GroundSwell Launch Recap + Interview with GroundSwell Supporter Aye Nyein Thu
Posted By
Tuesday, January 29, 2013
Categories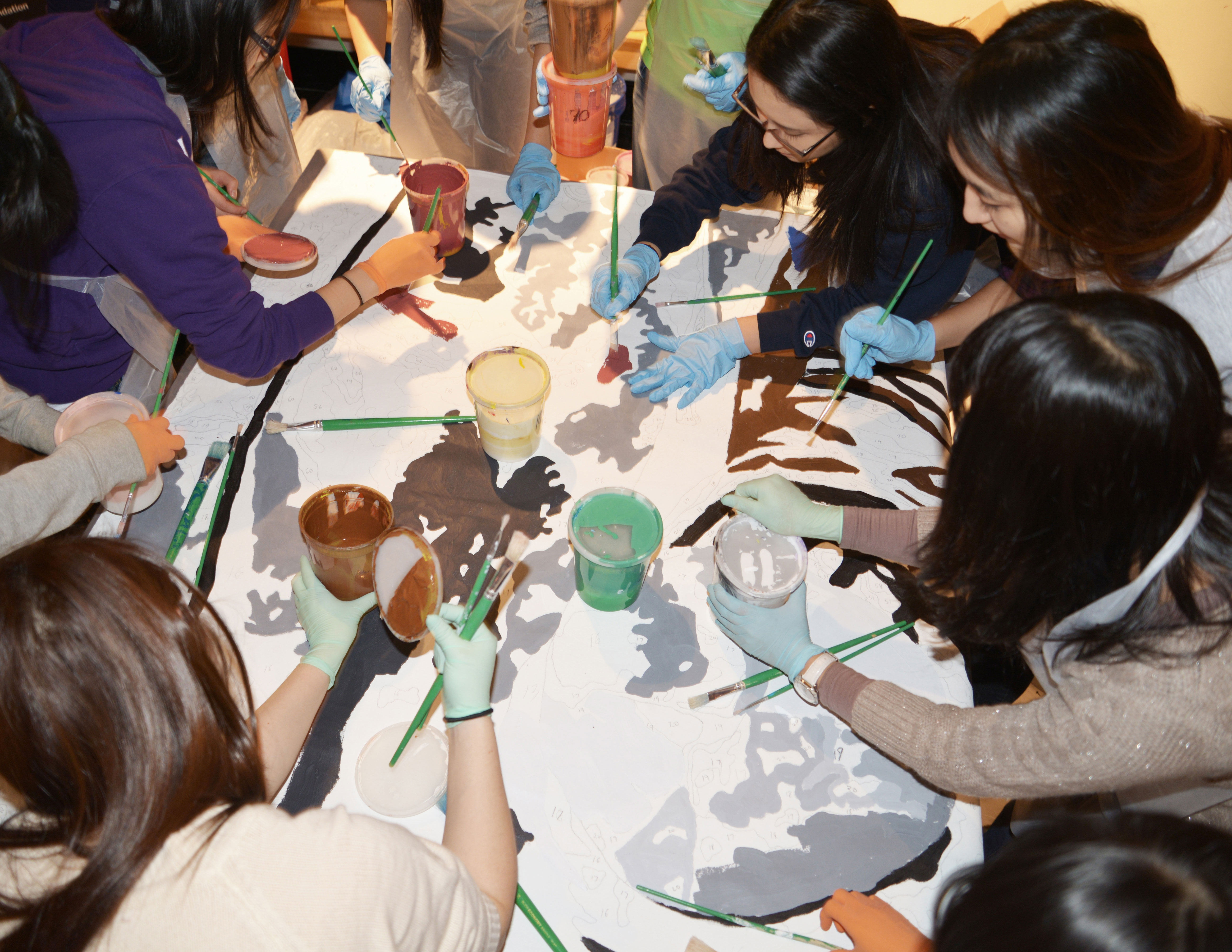 Photo courtesy katrinaohstrom.com. L to R: Sorority alpha Kappa Delta Phi members Amy Ma, Joanna Shen, Helen Sohn, Carol Han and Aye Nyein Thu.

The GroundSwell launch event on January 21st, 2013 at The Arden Theatre was a vibrant, activity-filled celebration of arts, culture and community.  Nearly 300 GroundSwell supporters came out to have fun, meet their fellow community advocates, and find out more about the GroundSwell mission to make Greater Philly a better place to live, work and play.  GroundSwell unites all of our region's cultural assets—art, culture, museums, libraries, parks and more—and focuses community members around actions to benefit those institutions and projects to in turn improve quality of life in our region.
 
In that inclusive spirit, the GroundSwell launch event had all sorts of things going on. In the lobby, GroundSwell supporters controlled the volume, intensity and style of singing for the GroundSwell Players as they cycled through "Call Me Maybe" and an a capella version of Kanye West's "POWER"; Wolf Performing Arts Center brought their Butterfly Project so GroundSwell supporters could participate in creating some of the 15,000 butterflies they're collecting to honor children who died in the Holocaust; First Person Arts presented a theatrical story-sharing program on the F. Otto Haas Stage, followed up by a storytelling open mic on the power of the arts; Mural Arts ran an MLK Day of Service project upstairs; and during the event reception, the crowd was treated to some deliciously Philly-centric refreshments like Tastytakes and soft pretzels. 
 
Among the GroundSwell supporters in attendance that night were 11 members of the University of Pennsylvania sorority alpha Kappa Delta Phi, who were there to help work on a Mural Arts MLK Day of Service project.  The project was to help paint a new mural by artist Eliseo Art Silva for 8426 Bustleton Avenue: 100 Years of Filipinos in Greater Philadelphia. The mural was designed by Silva to be a memorial for Filipinos who died in the 1898 War of Phillipine Independence, and also celebrate the 100th Anniversary of the Filipino American Association of Philadelphia, Inc. (FAAPOI), the oldest Filipino American organization in the country.
The Community Service Chair of aKDphi, Aye Nyein Thu, talked to us about what it was like to be a part of the project:
 
GroundSwell: You and your sorority sisters volunteered for the Mural Arts MLK Day of Service project that took place during the GroundSwell launch.  Why was it important to you and your sisters to engage in a community service project?
 
Aye Thu: Philanthropy is one of the cornerstones of aKDphi. We really believe in giving back to the community as much as we can and therefore our house always participates in community service projects throughout the year. It feels great to have a positive impact!

GroundSwell: How did you choose the Mural Arts project?

Aye Thu: As a tradition, our house always does a service project on the MLK Day of Service to honor Martin Luther King. After digging through multiple websites, we all agreed that the Mural Arts project hit closest to home since we are an Asian-interest sorority!  We have a few Filipino sisters in the sorority, and needless to say, they were extremely excited about the mural and to be a part of spreading the much needed awareness of the Filipinos in Greater Philadelphia.
 
GroundSwell:  Can you describe your experience working on the mural, and speaking with the artist (Eliseo Art Silva) about his work? What were some of your favorite moments?
 
Aye Thu: We felt extremely privileged to be a part of this project and to be able to help Eliseo spread the Filipinos' proud culture and history. The fun aspect of painting the mural was a big bonus! We all really felt like little kids again when we were painting in the numbered shapes. Even though we were painting in really small shapes, we knew that without them, the mural would not be complete! It was a great feeling.
 
GroundSwell: How do you see the project you worked on benefitting Philadelphia?
 
Aye Thu: We really hope that this project will help spread awareness of the Filipinos living in Greater Philadelphia, and have people appreciate their unique culture and history more. 

Are you interested in working on a Mural Arts project, or getting a mural in your neighborhood to celebrate and unite your community? Check out the Get Involved section of muralarts.org for staff and artist job openings, how to apply for a mural, and more!