Primary tabs
Q&A with Pop-Up Play Philly Founder Rebecca Fabiano
Posted By
Tuesday, December 15, 2015
Categories
Rebecca Fabiano is a co-founder of Pop-Up Play, an organization that offers play experiences for young people, ranging from one day leadership events to week-long sessions, to full-on city-wide festivals.
Rebecca Fabiano is a co-founder of Pop-Up Play, an organization that offers play experiences for young people, ranging from one day leadership events to week-long sessions, to full-on city-wide festivals.  She also works as a consultant, helping to build solid youth programs that engage, encourage, and create spaces for positive development, assisting program staff in creating high quality programs and experiences for youth. In addition, she also runs Sandbox Philly, a professional development and networking opportunity for youth development professionals, educators and advocates.
GroundSwell chatted with her to learn more about Pop-Up Play and what's next for the organization as well as how she works to help youth-oriented organizations with their programs.
Responses have been edited for length and clarity.
GroundSwell: Why did you create Pop-Up Play Philly?
Rebecca Fabiano: I co-founded Pop-up Play with Jen Brevoort and Folasshade Laude-Hammond because we believe that play is a strategy that develops leadership skills in youth and can be instrumental in transforming communities.
There are a lot of great organizations here in Philly working to feature the benefits of play. We focus on play with older youth and teens. Qualities and skills like creativity, problem-solving, teamwork, leadership and communication, which are used when playing games, are actually the same skills and qualities that help people be successful in college and what employers seek in their employees.
We hosted the first city-wide Festival of Play last June and it was a hit! We've already been contacted by organizations that participated in June wanting to know the date for 2016.
GS: What are you currently working on with Pop-Up Play?
RF: Pop-up Play just led the play experience of the Global Cardboard Challenge in partnership with Smith Memorial Playground on October 10th.
GS: Can you tell us a little bit more about the Global Cardboard Challenge?
RF: The GCC is an annual event that grew out of the enthusiasm of Caine's Arcade, a short film released in 2012. I've wanted to participate in the Global Cardboard Challenge since I heard about it after watching the film.
Each year, all around the world, communities create opportunities for youth to explore and celebrate creativity by using a simple and abundant resource: cardboard. This year, Pop-up Play partnered with Smith Memorial Playground to bring the annual GCC to Philly. We trained the youth leaders using our Experience. Create. Lead. model and they facilitated experiences and activities for children, youth, and families to explore their creative side through cardboard.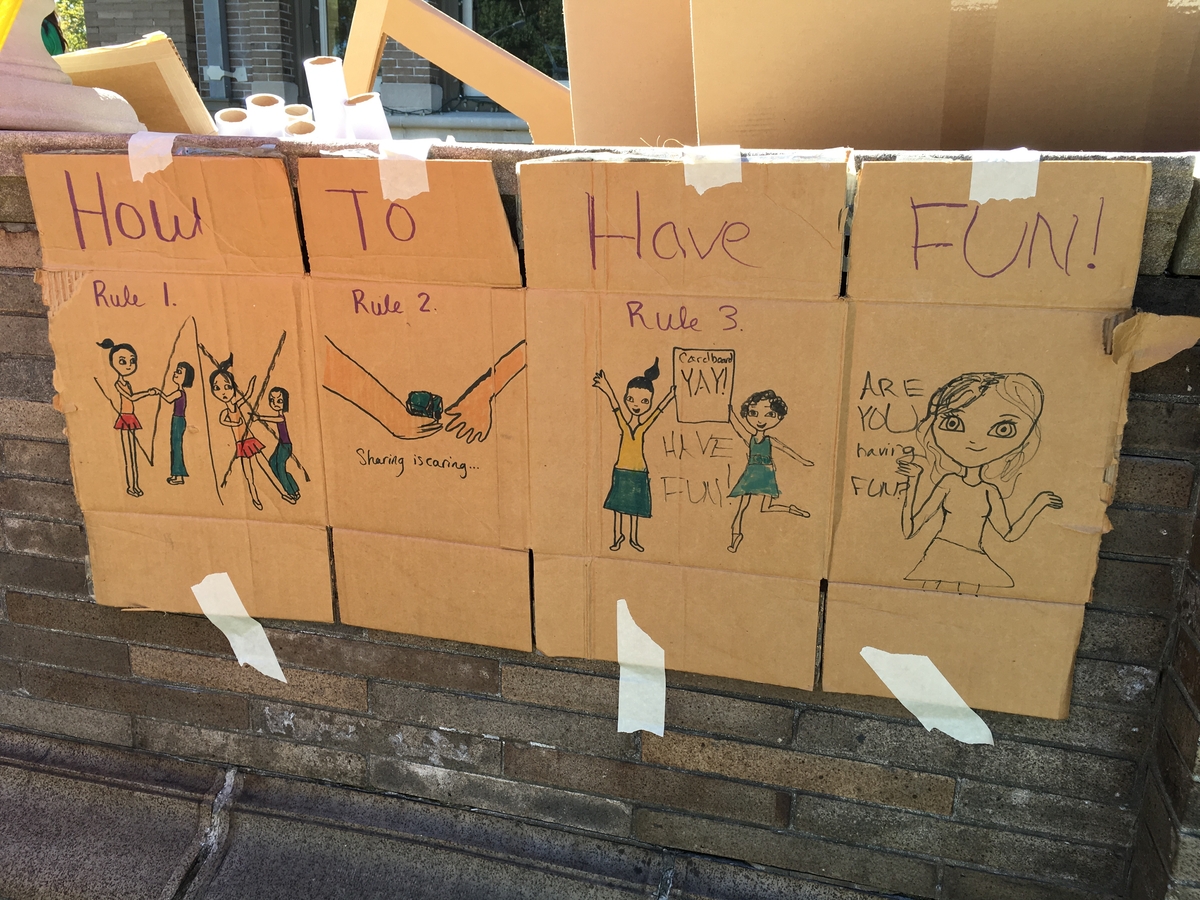 GS: Why are creativity and arts skills so important for our youth?
RF: I believe developing one's creativity and art skills enable all of us, including youth, to explore the world around us in ways that support both interpersonal AND intrapersonal discovery. When we develop our creativity, we also develop related skills like perspective and problem-solving.
These skills can be applied to solve real-world challenges and to improve our relationship with others.  When we pursue an artistic interest, we create an opportunity for self-expression. This is particularly critical in the development of youth as they explore their own identity and their relationship to the world around them.
GS: What made you want to work with young people in Philadelphia?
RF:  My entire career, since graduating from college, has been working directly with young people, or supporting the adults who work with them. In New York City, I worked with out-of-school youth; I ran an HIV prevention and sexual health outreach program for teens, taught high school for a year and started an award-winning afterschool program.
Since moving to Philly in 2007, I've been teaching a course at the Community College of Philadelphia called Foundations of Youth work, which prepares adults to work with youth in Out of School Time (OST) programs, summer camps, group homes and other non-traditional education and youth-centered settings.
I came to Philly from New York to lead a small nonprofit that provided afterschool and summer camp programing for youth. From there, I worked at a large nonprofit. After 2.5 years there, I left to start my own consulting business.
GS: What led you to start your own consulting services?
RF:  I wanted my work to be driven by a set of values, including integrity, collaboration, partnership and resource-sharing, and I felt I would be able to do that if I started my own company. I love that in my work I get to work on a wide-range of projects, from strategic planning with executive directors to curriculum development for front-line youth workers. I am also hired to work directly with youth.
GS: What type of work have you done for arts & culture organizations in the city?
RF: Recently, I've worked with the executive directors of the Asian Arts Initiative and Taller Puertorriqueno around improving youth programming and creating new strategies so that they were able to meet grant deliverables as well as improve the overall quality of programming.
At Mighty Writers, I worked with the Director of Education to introduce them to and lead their Professional Learning community.  I also worked with KicksUSA/Jako Ltd. to develop their summer internship model, which has been at the Village of Arts for the last two years. Since 2013, I've also served on the Bartol Board, which helps me stay connected to the incredible arts organizations here in Philly.
GS: Why is working with arts and culture organizations that support youth so important to you?
RF: I want to work with arts & culture organizations that support youth because I want all youth to have access to high quality experiences, environments and teaching artists so they can explore art. I don't expect that every young person will go on to become a professional artist, but these programs create spaces for youth to explore their interests and to be exposed to activities and people they may not be otherwise connected to. I like to stay connected to these organizations so I can be informed about what opportunities exist in our city.
For more info, contact Rebecca Fabiano Rebecca_Fabiano@yahoo.com and follow Rebecca on Twitter at  @rebeccafabiano.
Learn more about Pop-up Play at: www.popupplay.net and follow Pop-up Play on Twitter at: @PopupPlayPhilly.
Share this:

​