Primary tabs
Recap: An Evening with Next-Gen Philanthropic influencers
On July 17, we welcomed over 100 individuals, including members of the Cultural Cabinet and Emerging Leaders Circle, to "An Evening with Next-Gen Philanthropic influencers," an event done in partnership with Vanguard Charitable, the Free Library of Philadelphia and the Franklin Institute. The event was held at the Skyline Terrace Room of the Parkway Central branch of the Free Library of Philadelphia.
The evening began with a brief presentation on the findings of the Cultural Alliance's recent research report, Beyond the Check, and also featured a panel discussion with Jane Greenfield, President of Vanguard Charitable, Peter Haas of Devon Preparatory School and Winston Lowe, trustee of the Pennsylvania Academy of the Fine Arts. The distinguished panel discussed the ways in which budding philanthropists can make the most impact in the nonprofit sector.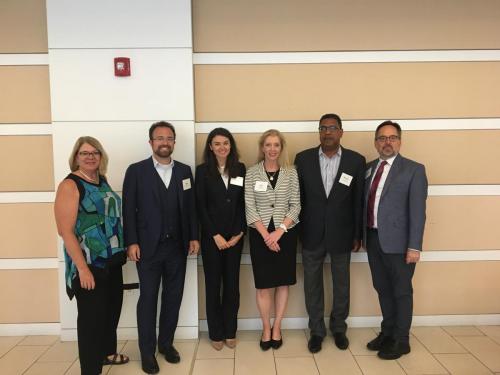 Lowe, who shared the origin story of the Winston & Carolyn Lowe Curatorial Fellowship, encouraged young philanthropists to make an impact by, "first observing any gaps [in an organization or field] and use your resources to fill those gaps." Greenfield also encouraged young philanthropist to use their time as well as their resources to impact the organizations they care about: "Early in one's philanthropic career you often have more time than money, but that shifts as you get older. Use your time now to get involved." Haas echoed his fellow panelist stating, "It's important to get involved [with the organization] directly."
The panel discussion also provided insight into how organizations can garner support from the city's philanthropists, both budding and established. Greenfield, who encouraged attendees to use resources like Guidestar, echoed the results of the Beyond the Check report and stated that donors prefer to give to transparent organizations with consistent messaging. Greenfield stated, "Your website and all other online venues need to have a consistent, key message." Lowe and Haas also discussed the importance of time when soliciting support, with Lowe sating, "the best way to get [support from my wife and I] is to get in touch with us almost nine months ahead of time so that your request can be included in our philanthropic planning for the year." 
Events like the "An Evening with Next-Gen Philanthropic Influencers" are indicative of the exclusive opportunities made possible by membership in the Cultural Cabinet and Emerging Leaders Circle. To learn more about these exciting opportunities and for information on how to join one of these groups, please visit our website.