Primary tabs
Meet an Alliancer: Nicole Kalitsi
Posted By
Wednesday, April 18, 2018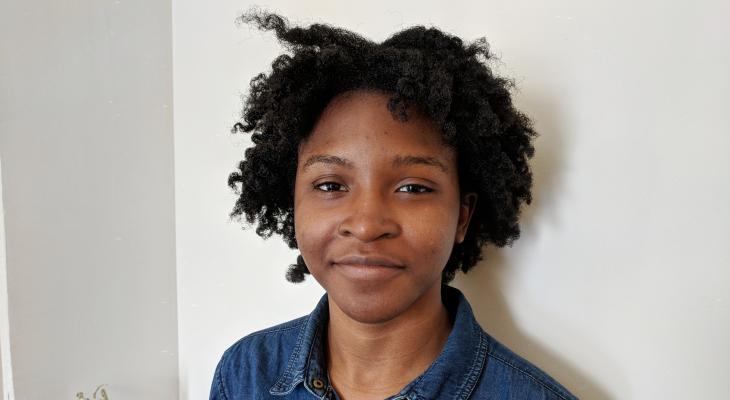 Ever wondered what it's like to work at the Cultural Alliance? We'll introduce you to members of our staff! This month the spotlight is on Nicole Kalitsi.
Job Title: Diversity Coordinator Co-Op
Job Responsibilities: As the Diversity Coordinator, I am the liaison between the different departments, Alliancers and members of the community on all matters regarding our DEI mission. In my time here so far, I have compiled data on diverse cultural organizations in the region, began drafting tips for more inclusive Job Bank listings, reached out to companies who may be able to provide services such as diversity training to our members, and so much more. All of this in just two short weeks!
I have very high hopes for what I will be able to achieve by the end of my internship with the Alliance based on all I've been able to accomplish already.
Degrees/certificates: I am working on getting a Bachelor of Arts in Global Studies with a concentration in Justice and Human Rights. By next year, I hope to have completed my French minor and my Philosophy certificate.
Past experience working in arts and culture: I have worked at Drexel's Leonard Pearlstein Gallery since my freshman year, three years ago. Stop by if you ever find yourself on that side of town!
Favorite thing about working at the Cultural Alliance (so far): I love that this job challenges me to be a self-starter. My previous Co-Op was for a government agency so everything I did was very regimented and bureaucratic. At the Alliance, I have set my schedule from day one and I feel as though the quality and value of my work has been much higher because of this.
I also really love how welcoming and excited everyone has been since I stepped through the door.
Favorite cultural institutions/attractions/events: I love South Street. It is my absolute favorite part of the city and I have so many memories (both positive and negative) associated with it. It holds just about every spectacle you could hope to get out of Philly: delicious food, robust history, beautiful art, unique boutiques, bars aplenty and cool music!
A fun fact about yourself: When I was in the 7th grade, I taught myself how to read and write the Korean alphabet. This did nothing to help me with actual comprehension of the language, though, so my speaking skills are quite basic. However, I've been taking classes ever since I got to college and hope to spend time there after I graduate doing intensive language acquisition.
My goal is to be able to speak at least four languages fluently by 30. I'm currently fluent in English, obviously, and French. I hope to add Korean and Portuguese to the list!