Primary tabs
County Outreach Heats Up This Summer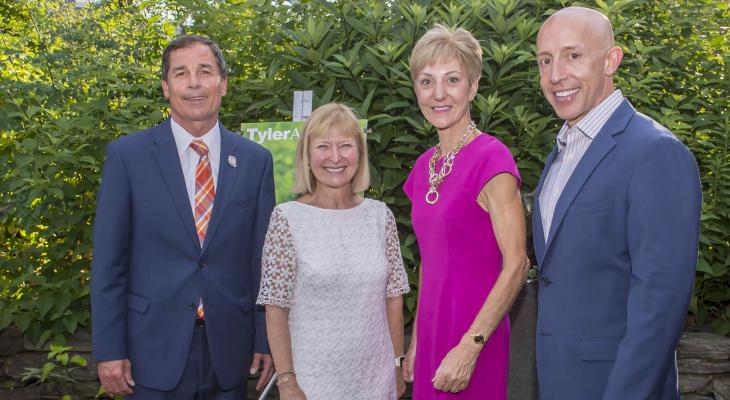 In photo taken at the Delaware County Arts Consortium, from left to right: Marty Milligan, Destination Delco, Frances Sheehan, The Foundation for Delaware County, Marianne Grace, Executive Director, Delaware County, and Brian Zidek, Delaware County Council.
The Cultural Alliance is a regional organization, and we are always looking for ways to amplify the impact of arts and culture at the county level. Two events last month are great examples.
On June 12 the Alliance convened a group of 25 Chester County cultural leaders for a happy-hour mixer at the beautiful grounds of the Galer Estate Vineyard & Winery in Kennett Square. This informal gathering brought people together, many for the first time, to gauge interest in forming a coalition of Chester County cultural groups to pursue common goals. Representatives from the Delaware County Arts Consortium (DCAC) spoke about the value and impact of their coalition, which was established in 2009. The group agreed that a coalition should be organized, and a steering committee has been established to lead the process of determining the group's mission and scope. The Alliance, together with the Chester County Community Foundation, will provide technical assistance as the group coalesces.
Nine days later, on June 21, the Delaware County Arts Consortium (DCAC) held its own event on the equally beautiful grounds of the Scott Arboretum at Swarthmore College. Over 100 guests, including business, civic, philanthropic and cultural leaders, gathered to network and experience a taste of Delaware County's diverse cultural offerings. Among the attendees were recently elected Delaware County Councilman Brian Zidek and County Executive Marianne Grace, who agreed to work with DCAC on the first-ever "Celebrate DelCo Arts Week" in 2019.
A recap of the Cultural Alliance's recent county activities would be incomplete without mentioning our ongoing relationship with the Valley Forge Tourism and Convention Board. Last year, with assistance from the Cultural Alliance, County Commissioner Valerie Arkoosh and PA Rep. Tim Briggs, VFTCB launched its "Arts Montco" platform to promote Montgomery County's cultural assets. The "Arts Montco" website features calendar listings of Montgomery County-based events from Phillyfunguide.
If you would like to get involved in the Cultural Alliance's county activities, contact Chief Strategy Officer Michael Norris at 215-399-3512 or michaeln@philaculture.org.