Primary tabs
Beyond the Check: A Roadmap for Engaging Individual Donors Recap
Posted By
Wednesday, April 18, 2018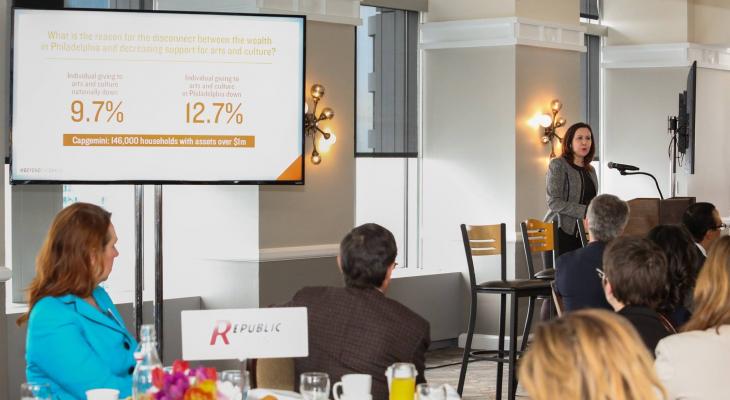 On April 9, the Greater Philadelphia Cultural Alliance released our latest research report to a sold-out crowd of our members' executive directors and their board chairs. In addition to a presentation of the report findings, the event included special remarks by Janet Haas, chair of the William Penn Foundation, and a panel with Stephanie Capello, Claire Lomax and Alison Perelman, moderated by Tom McGrath of Philadelphia Magazine.
The report, Beyond the Check: A Roadmap for Engaging Individual Donors, explores the disconnect between the wealth in Greater Philadelphia and the declining support in individual giving to the cultural sector. The research, conducted by The Melior Group and AFE Strategies, included a comprehensive literature review, a survey of donors to our member organizations and 13 interviews with high-net-worth philanthropists who do not support the arts.
We encourage you to visit philaculture.org/donors to download the executive summary and full report and to read the remarks from the April 9 rollout event. You can also view the pictures on Facebook. 
If you were unable to attend the rollout event, never fear! There are other dates coming up soon. First, save the date for May 31 at the Science History Institute (formerly Chemical Heritage Foundation). The event will include a presentation of the report, as well as roundtable discussions about what you - and the Cultural Alliance - could do to improve donor cultivation sector-wide, based on the recommendations in the report. Invitations will be sent later this week.
We are also working with the Association of Fundraising Professionals - Greater Philadelphia Chapter and PHL Diversity for an event in June focusing on diversifying your donor base. Stay tuned for more information!
Finally, to request a presentation of Beyond the Check for your board, email Michael Norris at michaeln@philaculture.org.