Primary tabs
Congratulations to Philadelphia's 2017 Bloomberg Arts Interns!
Posted By
Thursday, September 14, 2017
Categories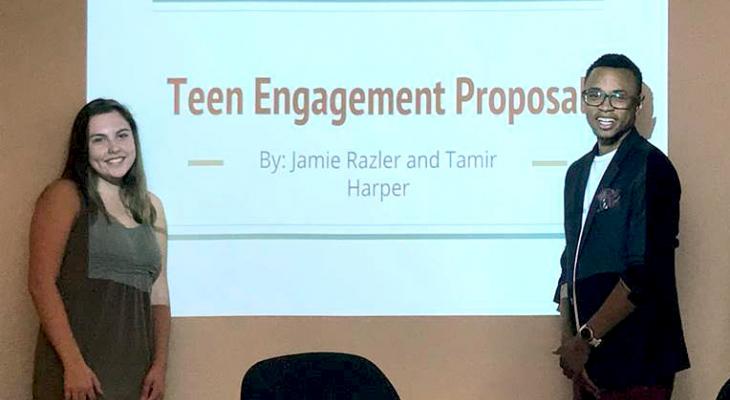 Please join The Greater Philadelphia Cultural Alliance and Philadelphia Youth Network's WorkReady program in congratulating our 2017 cohort of Bloomberg Arts Interns in Philadelphia who recently completed a 6 week paid summer internship with 28 leading cultural organizations in the city.
Bloomberg interns strengthened their professional skills and gained insight into careers in the arts and cultural community while enhancing their worksites' ability to staff summer programs and projects.  As one worksite supervisor noted, "We really enjoyed working with these talented and motivated students.  Their work has a beneficial impact on our organization's mission."
"We recognize the importance of programs such as this that introduce future leaders to career paths in the cultural sector in Philadelphia!"
The interns, rising seniors from Philadelphia public high schools, also participated in rigourous professional development and writing workshops, college readiness seminars, and cultural site visits throughout Philadelphia.
Please join us in congratulating the following 2017 Bloomberg Interns on a job well done!
| | | |
| --- | --- | --- |
| Aminah Aguilar | Lonnie Jernigan | Amirah Rose |
| John Bates | Brittney Johnson | Aneesah Sanders |
| Christopher Billingsley | Tylaya Kint | Fahima Shobarna |
| Jasamuel Boggs | Anthony Lam | Jeralane Sloan |
| Aaliyah Briggs | Joelle Lara | Michael Smalley |
| Ilysiana Brooks | Jessica Lewis | Samira Spivey |
| Nasir Chandler | Karen Li | Savannah Tertulien |
| Marc Cobban | Irene Marrero | Brittany Wilkins |
| Taylor Fleming | Anahi F. Martinez | Imani Williams |
| Amariliz Gonzalez | Charles Massaquoi | Trinity Williams |
| Laury Guersaint | Brittany Meade | Yacina Williams |
| Tamir Harper | Rasheeda Montgomery | Taijay Wilson |
| Maricely Hernandez | Rashonda Montgomery | Aaliyah Windle |
| Amanie Hightower | Fenetta Morlu | Diamonique Wright |
| Tayell Howard | Tirazayahinna Parker | Sana Zeb |
| Tajnia Hussain | Jamil Price |   |
| Anaiah Isaac | Jamie Razler |   |