Primary tabs
Lisa Nelson-Haynes
Date Posted
November 10, 2021 - 10:32am
Categories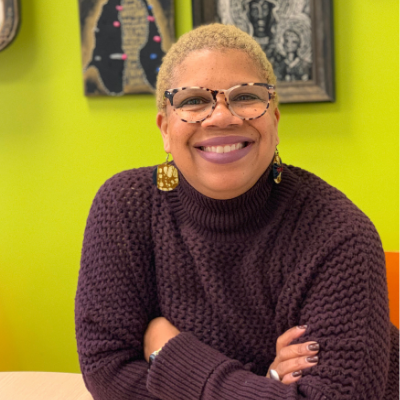 Lisa Nelson-Haynes is the Executive Director of Philadelphia Young Playwrights (PYP), where she helps young people discover their potential through the art of the play. PYP is currently in 43 schools, throughout Philadelphia, Delaware and Montgomery counties, and in 92 classrooms with students in grades 2 - 12.
Prior to coming to PYP, Lisa spent 15 years at the Painted Bride Art Center and fostered her hands-on approach to arts education. In her role as associate director, Nelson-Haynes ran the Center's educational outreach and residency programs. She also collaborated with the organization's Executive Director to shepherd the ambitious project, Re-PLACE-ing Philadelphia -- an 18-month initiative to expand the archive of the city's cultural memory through multiple histories that "re-place" established narratives with new perspectives.
Championing the power of personal narrative and stories, Lisa's work has long centered around empowering others to take control of their stories and voices. Fittingly, Lisa is also the Executive Producer of PYP's award-winning podcast Mouthful. The podcast digs into the experiences and perspectives of young people to spark important conversations about big ideas and issues.
An award-winning storyteller and teacher, Lisa has facilitated digital storytelling workshops for Storycenter for more than ten years. She has worked with Drexel University's Center for Nonviolence and Social Justice's Healing Hurt People to facilitate workshops with young people who are victims of intentional injury to craft narratives that celebrate their resiliency and triumphs.
In addition to her work with PYP, Lisa is a racial literacy trainer with Lion's Story, a Philadelphia-based organization focused on teaching the ability to recognize and resolve racially stressful encounters.
Nelson-Haynes is also a Leeway Foundation Art & Change grant recipient for the Redline Project (redlineprojectphilly.com.) A storytelling project that collected first-person narratives about gentrification in the Point Breeze and Graduate Hospital neighborhoods of South Philadelphia.
Nelson-Haynes is a graduate of Hampton University.